I'm reposting this from TBrix...
So I just got back from the dyno...I've been having tune issues and just couldn't track it down without gathering actual data. This is a reasonably long story, so I hope you can stay with this winding tale. First, the details.
B230FT (H-beams, squirters, you get the idea). 9:1 SCR.
530 Head (larger valves, stiffer valve springs, 3 angle valve job, ported)
90+ exhaust (also ported and ceramic coated)
Mitsu TDO4HL-15G - (also ported and ceramic coated)
Stock 740 Intercooler.
Bosch 42lb (440cc) "Green Giant" High-Impedance Injector (Bosch 0 280 155 968).
Ceramic coated stock intake manifold.
LH 2.4 running TLOA Chips (Gold ICU also chipped).
New O2 sensor, new CPS, New pretty much everything.
Manual boost controller from YoshiFab - set so that we're all in at 10 psi. Wastegate without the leak is 5 psi and recently adjusted properly.
New K-Jet main pump (new)
740T intank fuel pump (new).
So as I've been auto crossing, I've noticed (as has everyone around me) that from time to time the car lacks power, it snaps and pops like it's on the rev limiter (at like 4.5K rpm) seems rich as heck. Then, for whatever reason it would come alive and behave brilliantly. Lots of power all the way to the rev limiter. You just don't know which car you're going to be driving.
I adjusted the wastegate and changed out the fuel pumps to cure some other issues, but the tune problem hadn't gone away. It was "better" but not "right" and certainly not consistent. We only have one dyno in town, and it's booked pretty heavily...so I've been waiting to get on the thing to find out what the heck's going on.
Well, today was that day - WHOA, we got trouble people. So the first 5 pulls were aborted due to it behaving very badly. No point in rev'ing it over 4.5K rpm...even the office lady came out to see if anyone was actually getting shot. These pulls were in either 4th or 3rd gear.
They look like this (warning - these are hard to look at they are so ugly).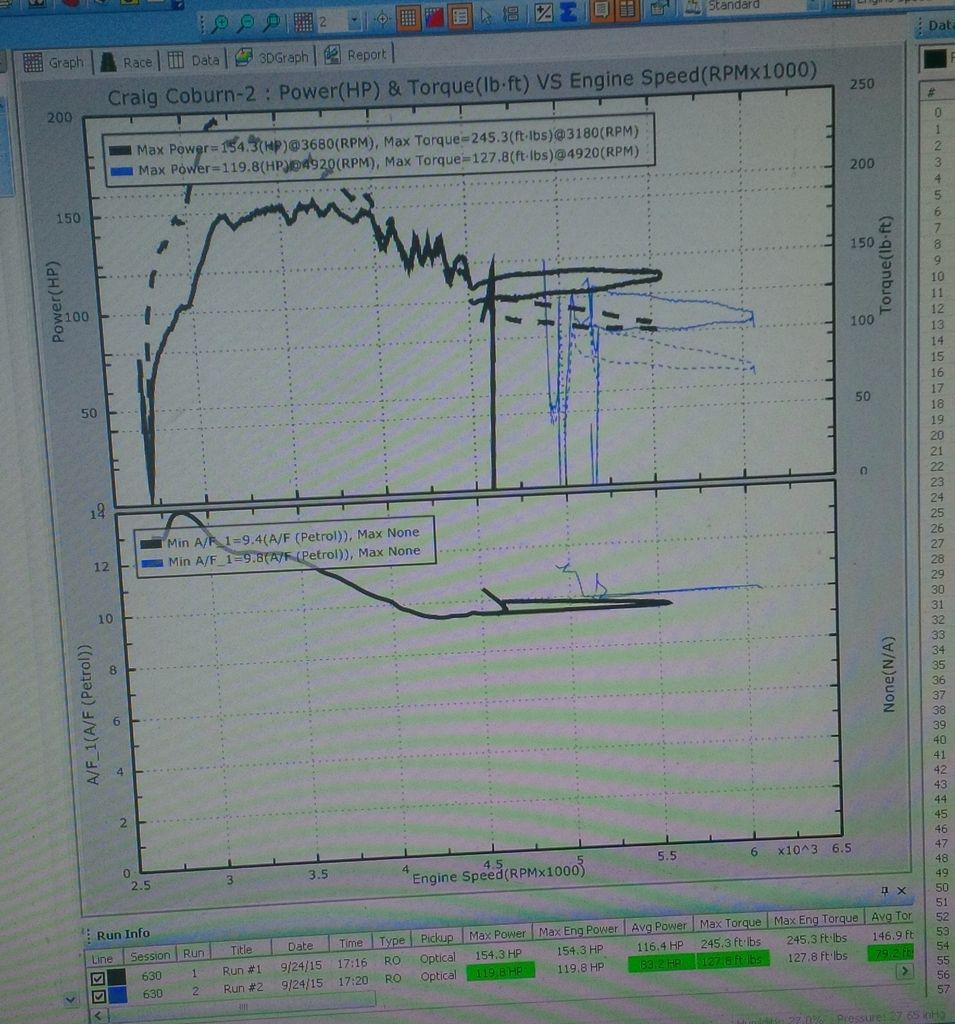 Don't worry about that little return dangle - it's meaningless. AFR's are PIG RICH...like in the 9's rich. We do this 5 times. Same results. We try to ease it up to 5K rpm and then roll onto redline. No dice. Same junk. Look at the AFR's just going FAT.
Then we tried to just see if it would behave in 2nd gear...and

mg::omg::omg: we get this pull.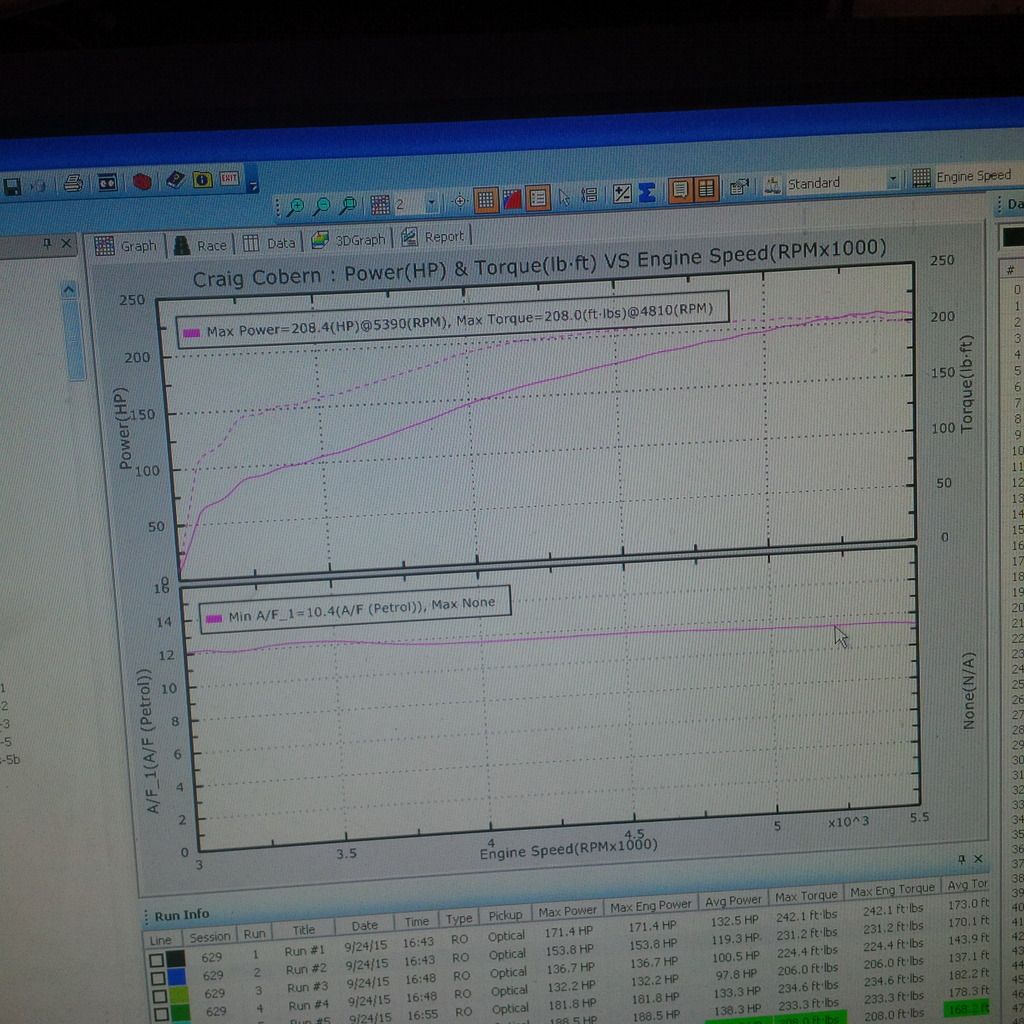 WTF is going on here. Here's the comparison.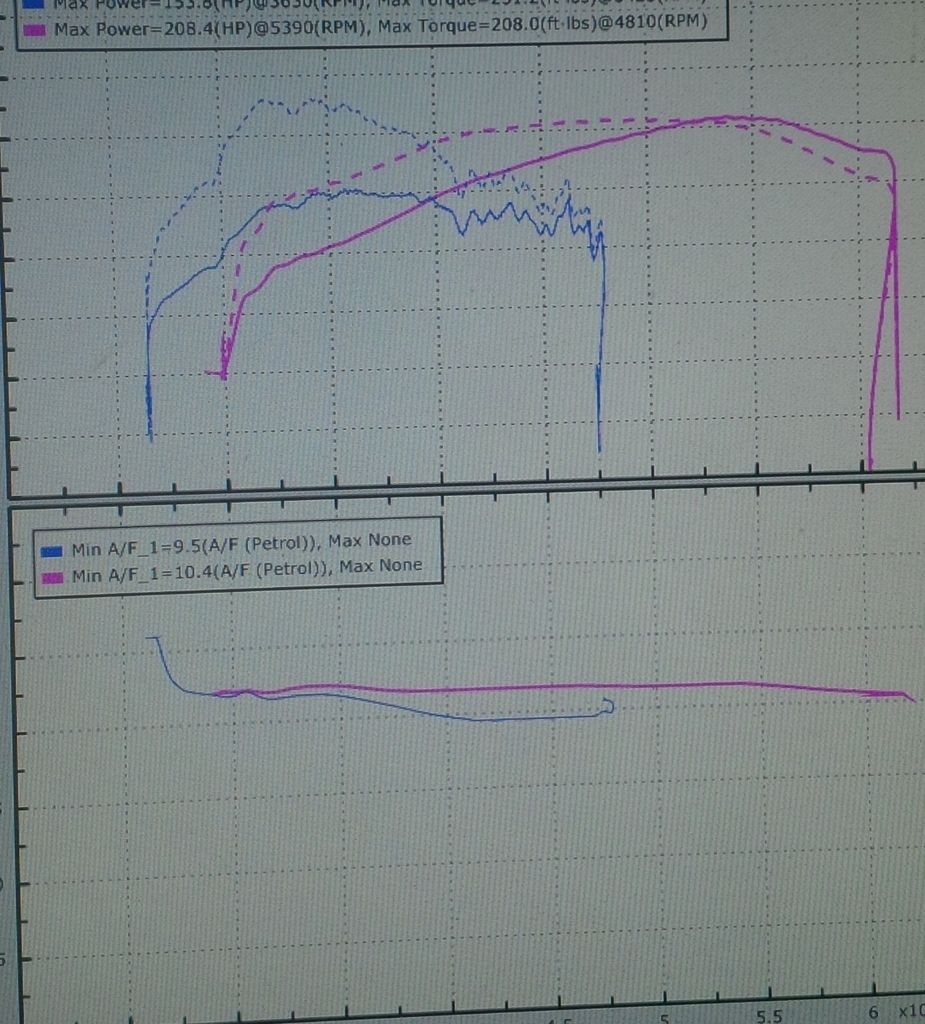 No one's complaining about the pink line (that's the second gear pull) - making 208 WHP with 208 lb/ft torque (lower than the nonsense pulls).
Thing is, we can't get it to do that pull unless it's in the lower gears. So why? Also note the AFR's are ROCK SOLID. The AFR's were measured in the tail pipe, so are not quite right.
Seriously...has anyone seen this? What am I changing NOW? At first we thought that the injectors were just too big? Why does it work right sometimes and not others? Is LH 2.4 done?
Just for fun - here's the vid.
[url="https://youtu.be/2S1zQzhOldo"]https://youtu.be/2S1zQzhOldo[/url]