Few updates so far. Been out of town working lots (glories of being a crane technician)
Installed a new coolant bottle and mounted the air compressor on a temp bracket that works (not pretty yet). My dad bought himself a brand new compressor and plasma cutter last week and I can't wait to get my hands on it.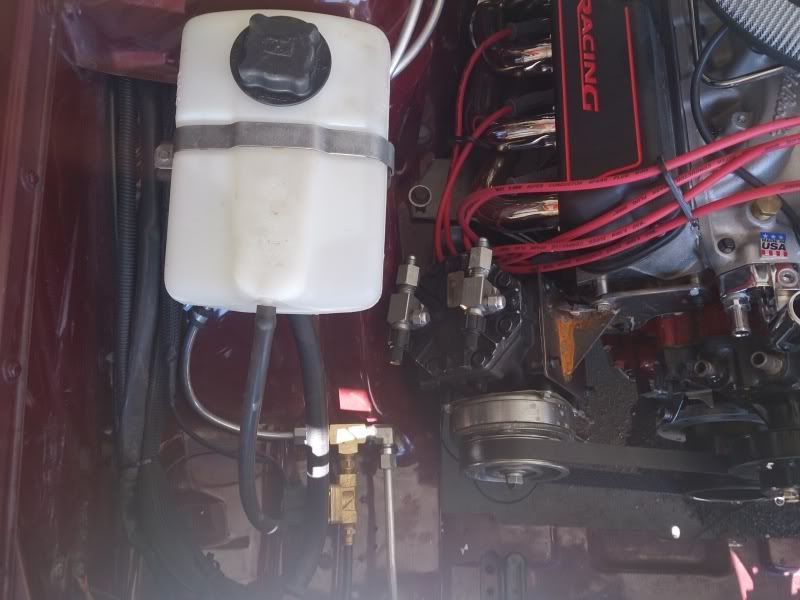 New master cylinder install. Also tucked the wire harness up behind the booster so it's out of the way. Not the very limited space between the booster and valve cover. These are taller to accommodate the roller rockers and barely fit. Luckily when I start the engine and rev it it'll kick over to the other side.
Autometer makes some nice easy gauges that match the Volvo interior. There is nothing I hate more than seeing engine related gauges that do not suit the interior (5" + tach's with giant yellow and red lights, blue, purple bright lit gauges etc). These are part of the "Z" series IIRC.
The rad: Well...I hear a lot of guys use the Volvo rad but that wasn't sitting well with me for 3 reasons. Price, availability and cooling capabilities. I went with a thicker Griffin Thermo products rad and paid around $160 for it from Summit.
This was the only rad I could find that would fit perfectly width wise and height wise. I believe it was part # 1-25201-X or XS. Everything is perfect except the fact that the lower coolant fitting was angled and wouldn't work. It points directly into the power steering pump.
So! Time to get custom. I had a local guy cut it off and tig it back on and a different angle.
It clears but still no way of running power steering with the engine bracketry I have (Crown Vic, mustang is different). Eventually I'll move the accessories around but right now I need this thing to run and drive with or without power steering. The season is almost over. I located a manual rack locally that I'll pick up soon.
I have a 14" 2350 cfm electric fan I'll use to push air through it and see how that works. I'm in Canada so it doesn't get too hot here really. 30C* is about as hot as it ever gets and the car was not equipped with A/C so on those days I'll just use my DD wrx if I have an issue with sweating too much lol.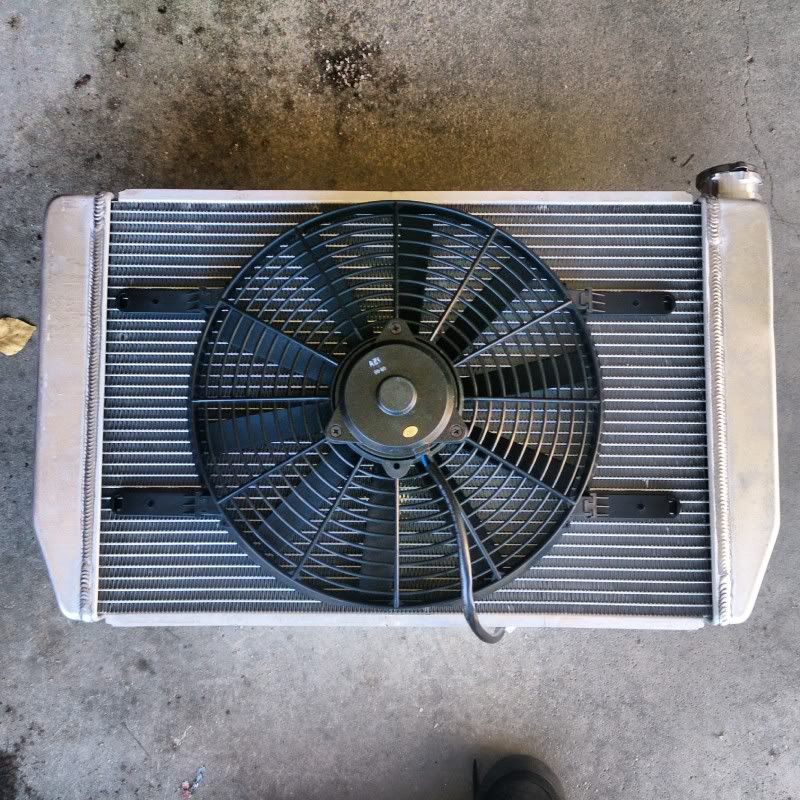 For now I'm using universal rad hoses that are ugly. They get the car moveable but getting some proper preformed hoses is in the plans.
<object width="480" height="360"><param name="movie" value="//www.youtube.com/v/CDrPIsTs5jI?hl=en_US&amp;version=3&amp;rel=0"></param><param name="allowFullScreen" value="true"></param><param name="allowscriptaccess" value="always"></param><embed src="//www.youtube.com/v/CDrPIsTs5jI?hl=en_US&amp;version=3&amp;rel=0" type="application/x-shockwave-flash" width="480" height="360" allowscriptaccess="always" allowfullscreen="true"></embed></object>