This has been done before, but I thought I'd write down my experience for others that are thinking about tuning the suspension of their 240's. The stock suspension is perfectly matched to its intended purpose. Comfortable driving on a mix of paved/gravel surfaces. With a good stage 0 done on your suspension (bushings fall apart, shocks get tired and fail, brakes wear out), you've got a good starting point. I'm going to suggest a few things that can make the 240 a reasonable handling car - still not a "sports" car, but less of a barge. The internet is full of opinions and with respect to 240 handling, it's littered with typical internet hand-wringing and little information. I'm trying to provide a little more informative information than I've found.
Now, I'm not starting from bone stock, but I do have plenty of recent experience including back to back drives between my car and a bone stock car. So I think the information is relevant. I also staged my modifications, so each modification can be tested (albeit briefly) for outcomes. It's not pure suspension science and I have not (still) worked out the motion ratios or wheel rates of the car, so we're going to limit the discussion to what most people are interested in reading about.
What will doing this do to my car? That's the fundamental question most want answered. Some kids will just cut and hack at springs and "stance" their cars because it's cheap and cool. This isn't very scientific and the results are terrible (normally) and I'd rather see the 240 crowd come up a step or two on the car evolutionary ladder. So what I have been looking for is a suspension set up that can limit the body roll and keep my tires on the pavement when cornering hard at autocross. I've got a 25 mm IPD front anti-roll bar - so more bar is not the answer - more spring should help make it all come alive.
The Beginnings
The 240 had a variety of spring rates (remember wheel rates are what the wheel experiences through the various levers of the suspension, spring rates are just how much the spring compresses under a given mass) depending on specification, body style (wagon/sedan) and year of manufacture. Apparently the 1979 GT got the stiffest springs of all and was, apparently, the best "handling" of the lot. Handling is sort of a variable word and what is good to some people is rubbish to others. So relative to other 240's the 1979 GT was by all accounts better cornering and had less body roll. Wagons typically have stiffer rear springs, Diesel models have stiffer front springs due to engine weight, and there are differences between years that are impenetrable to me. Now you won't likely have a 1979 GT and if you did it still wouldn't handle very well compared to a modern sports car or even a modern sedan. They all lean and roll around rather a lot. You can drive them on the door handles, but it doesn't feel great and if you've got power, unweighting the rear will lead to snap oversteer and spins.
The basics are:
Front spring rates = approximately 120 lbs/inch (1979 GT was almost 150 lbs/in)
Rear sedan rates = approximately 114 lbs/inch (Wagon = 120 lbs/in)
By any modern standard these rates are very light for a sporting car. Go and push down the front or rear of a stock car - pretty easy right. The same happens every time you accelerate, brake or turn.
Modification
One of the first things I did was to acquire better shocks/struts (can we just call them dampers?) for the car in the form of Bilstein HD's. Remember, the function of a damper is to control the oscillation of the spring and as such it's a velocity control system. Top tip - if you think your shocks are done, don't move them through their travel slowly...fully extend them and give them a quick compression snap by hand. If they move down really easily - they're not doing their job anymore and should be tossed...you can also tell as they will probably be covered in oil.
The stock Boge Volvo shocks are actually a good quality shock. There, repeated for the 1000th time. Bilstein HD's are a good upgrade that is tried and true and they will service their shocks for life - they don't car who bought them first. HD valving is not nonsense and I don't think it's all that incorrect in a car driven hard. The rears could be a little over-damped at regular speeds, but if you're that sensitive have them revalved. I didn't mind them.
The initial rebuild of the car had me running Lesjofors lowering springs which work out to:
Front spring rates = approximately 157 lbs/inch
Rear sedan rates = approximately 140 lbs/inch but they are variable rate - so hard to evaluate.
So this is a definite move in the right direction. A little better than the '79 GT for rates and it puts the car down about 1.5" all around. Not too low for winter driving. Too soft for autocross.
Tuning
There just isn't much out there for springs - the stock options are out there but make not much difference. The size of the spring limits what you can fit as it's an odd size (about 6.7" OD). You could wander around the JY with a tape measure if you like, or try out the various stock options (10 lbs/inch here or there isn't going to matter all that much in the grand scheme of things). I found an old thread on TBrix that outlines how to adapt standard coil over 2.5" ID springs to your 240 struts. Here's what you need to know.
1. The standard 10" 2.5" ID springs are a good match to the length you need. You need to pick a rate - at least 200 lbs/in as a start point. They are cheap at $110 per set at Coleman racing - lots of rates to choose from. That's for Hyperco's - good consistent spring - not some eBay nonsense.
2. You maintain the ability to convert back to standard springs - if you hate the results, you can go back with ease and you're out of pocket $110 USD for the springs and a few dollars more for the lower perch and shipping.
3. Changing it takes only a few hours - so testing and tuning is possible if you want to play.
Method
Rears first:
I removed my existing springs using standard methods - use a spring compressor. Rears are easy to change and I didn't even release the shock or remove the rear wheels. I cut 2.5 coils off the wagon overloads yielding about 180 lbs/in spring rate. That gave a nice ride height on my 242. When tested with the Lesjofors front springs they were not a good match with the rears having more spring rate than the fronts. There was noticeably less roll from the rear but the balance was wrong.
Front Struts:
Front struts were next. They required the 2.5" springs, some 2" sch 40 ABS (2" pieces - cut a slit so they fit over the strut tube), and a set of coleman racing lower spring perch spacers. The perch spacers were originally 1" tall, so I cut them down to 1/4" and had to sand the ABS until it was a snug fit on the strut and lower perch. Sanding took quite some time...find a lathe or other means of getting it to fit if you don't like sanding. Don't run it without this part - it makes sure your springs aren't going to rattle around and be obnoxious. Looks like this.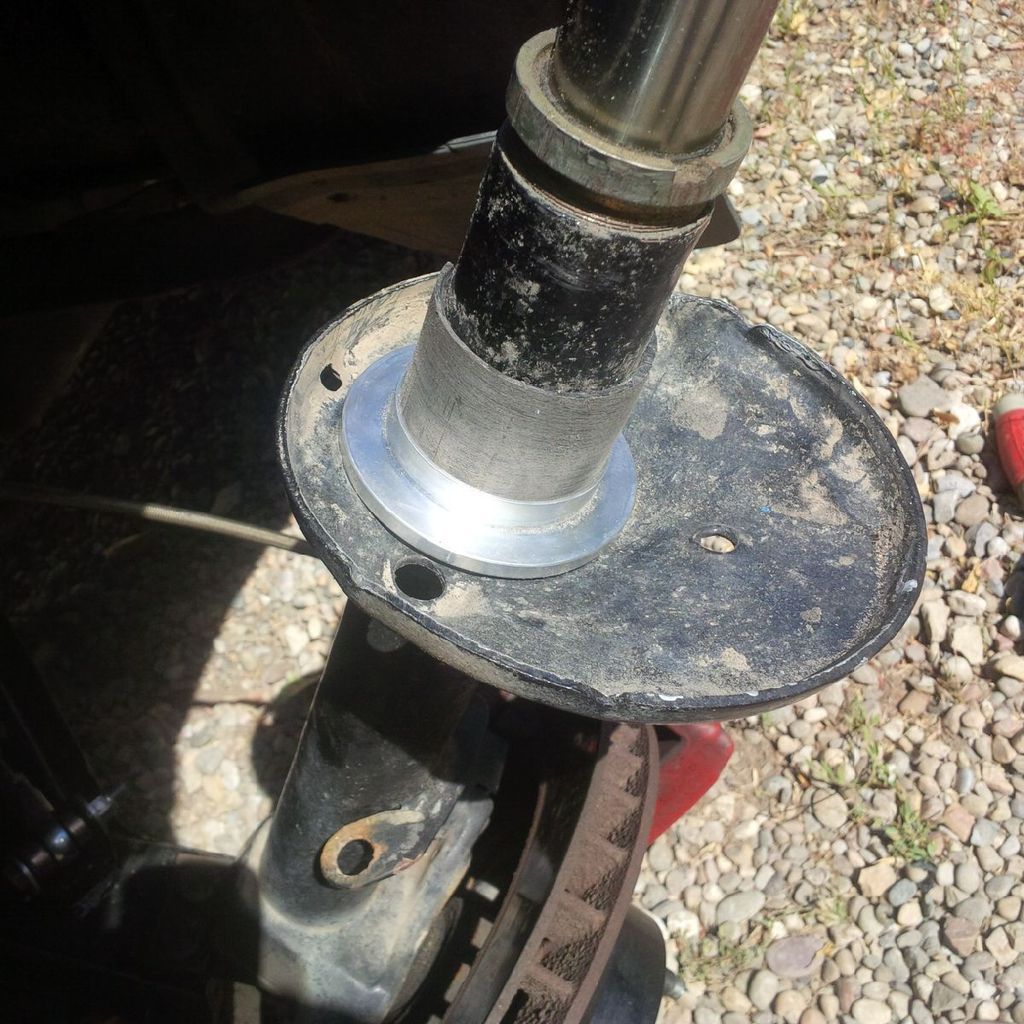 Then the upper spring perch - the stock one - is modified by adding a piece of 2.5" exhaust pipe 1" long to work as a register for the spring. The OD of the spring is a nice fit into the ridge of the inside of the upper perch. Looks like this.
Anyway - this will keep the spring in place. A little more length wouldn't have hurt...like maybe 1/2".
Put it all back together and put it back in the car. Done. This picture was from the first test before I cut the lower perch down.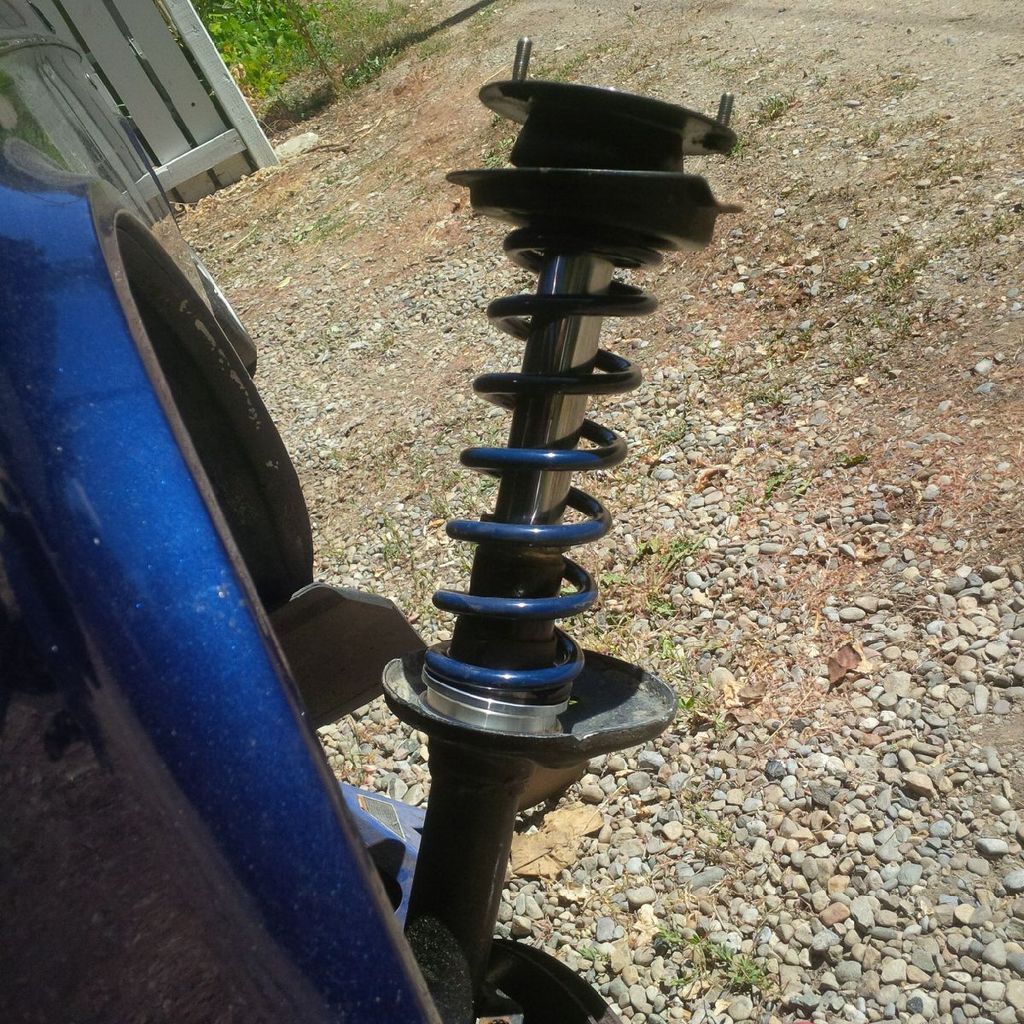 Here it is in the car. Now with 300 lbs/in of spring rate.
Now, you don't get to adjust much - that's pretty much it. This is the ride height I ended up with. Proper coil overs give you height adjustment. You'd have to change the spring rate to adjust the height.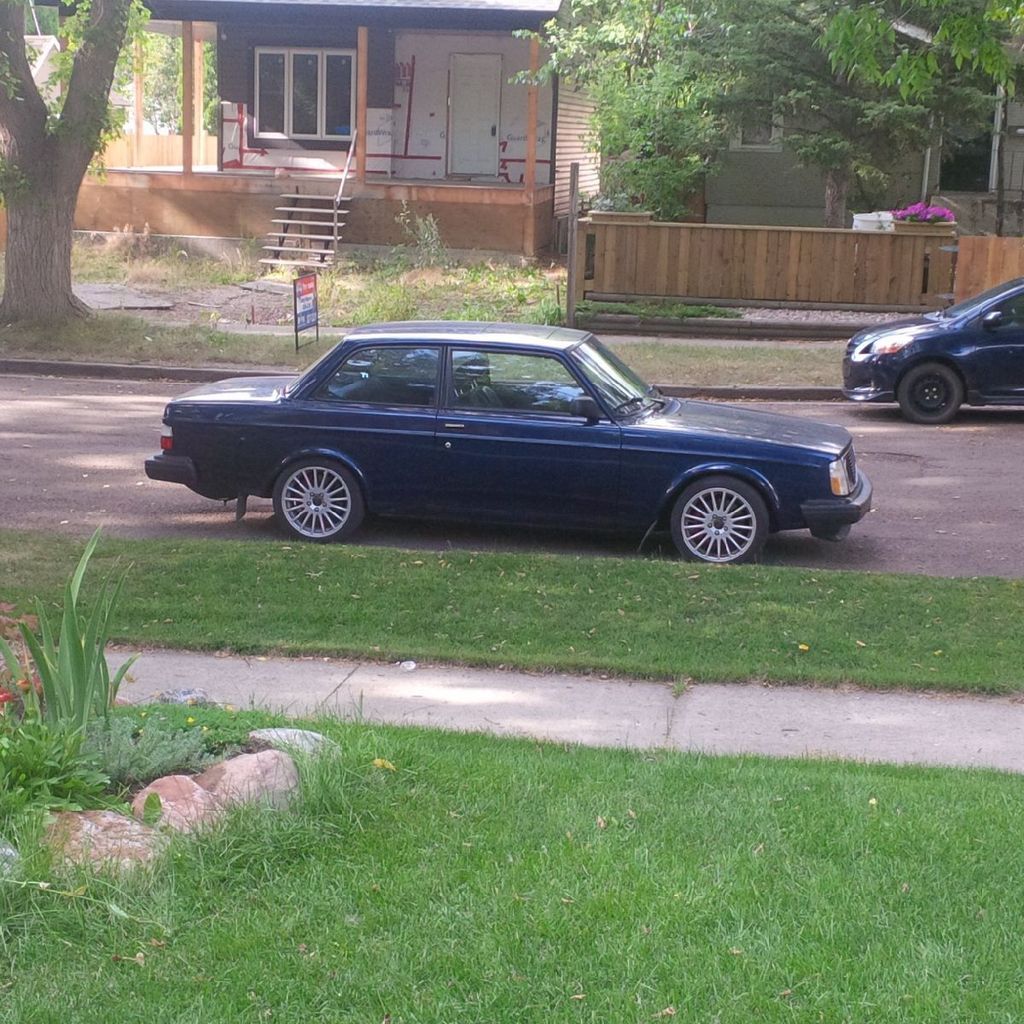 The results are very good. I'll race it like this in a few weeks and report back. So far the HD's feel fine and there is no rattles or teeth rattling harshness. Just a nice firm ride. A lot less body roll as well.